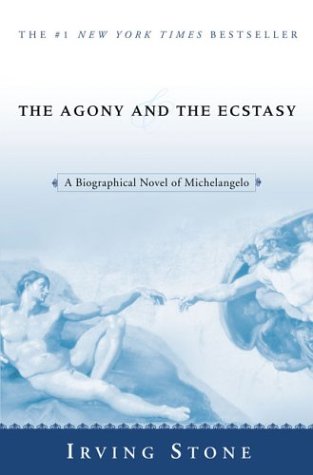 I close the book, and I am bereft.
Moving, pure poetry, an examination of the work, mind, and soul of the one of the people I admire most in the world.* It is a commentary on the nature of art, as well as a parade of ridiculous, reverent and irreverent, beautiful characters. Michelangelo and his work is timeless; although he lived over five hundred years ago, Stone has brought him back fresh, as pulsating and utterly real as when he held hammer and chisel in his hand. Reading this novel, I even forgot at times that this is Stone's interpretation of Michelangelo, and not the man himself. The Agony and the Ecstasy was so personal and yet worshipful an account of the artist that the reader finds themselves in agony and ecstasy.
This novel is for readers willing to plunge deep into time, into the mind, and into art.
*Yes, I am biased immensely; Michelangelo is my favorite artist of all time, better than Da Vinci, Raphael, Donatello, Rubens, or any other. Know that when I praise this book, it is partly because I love and respect the Maestro as I do. STILL, READ IT. You wont't regret it.